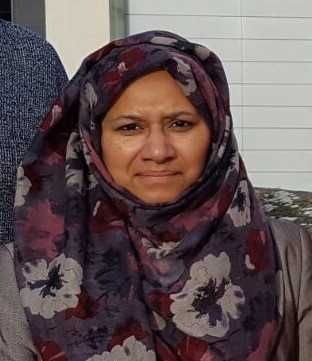 My background
My background is in Financial Management with over 20 years experience of working in the charity sector. Working in the charity sector allowed me to develop and work in many other areas including Project Management, Human Resource Management, Health and Safety, Legal and Compliance, Governance, Accreditations, Commissioning, Lobbying, campaigning, Funding and Reporting. I hope with my experience I can positively contribute to Community Foundation in Wales.
What I do
I work in the field of Domestic Abuse, Forced Marriage, FGM and Honour Based Abuse. I am passionate about gender equality. My organisation works at grass roots level delivery frontline services. Therefore, I am in an opportune position to influence policies at government level.
Ask me about...
How to work with the BME Community by reaching out to the so called hard to reach communities. Coming from a BME background I am aware of the issues and barriers faced by our community. Together we can help the vulnerable groups to flourish and develop to reach their full potential.
Why I love Wales
I was born in Wales and have lived here all my life. I have four generations of my family living in Wales. My father who came to Wales in the 1950's was a pioneer of mixed spices and introduced halaal meat in Wales. He had a whole show on BBC Wales last year dedicated to his contribution to Wales. Wales is so diverse and rich in culture. I love the varied landscape with a mixture of rural and city life. I love travelling and have travelled to most parts of Wales.