A space to be creative and meet new people
"Since discovering The Wellbeing Room at The Place, my life has brightened on so many levels. It is a ray of sunshine and a much-needed tonic, especially during challenging times and gloomy winter months."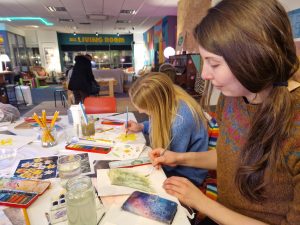 Tin Shed Theatre Co connects communities through creative arts in outdoor locations, public space, heritage sites and structures.
They received a grant towards their creative space, The Wellbeing Room, which provides weekly health and wellbeing activities for young people, (16 – 25), and those from the local community.
The grant has helped them to run free weekly classes in Qi Gong, Yoga, Meditation, Dance and visual arts at The Place, Newport. The Wellbeing programme also has an allotment space run by volunteers.
The classes and allotment space have been a lifeline to many people in the local community, offering access to wellbeing activities regardless of income.
Carmela, an attendee of The Wellbeing Room at The Place, said:
"The more I go to The Place the more I value it as a nourishing oasis in a bleak, divided world. In particular, I think it is the sense of connection and community that uplifts my spirit and makes me feel a part of something bigger.

I live alone and sometimes the community there feels like an extended family with the atmosphere of a house party!

I like the way that the encouraging, supportive team is open to new ideas, and it is heartening to see how much creativity is developed or exhibited there."