Connection and togetherness in the local community
Wales Coronavirus Resilience Fund
"Being a part of Hope St Mellons has brought me closer to my neighbours and has allowed to me to integrate into the community in a way that made me feel comfortable and confident."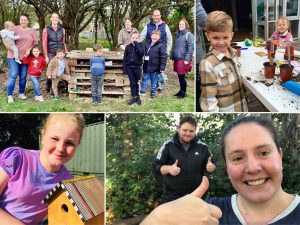 Hope St Mellons began in 2018 with local people coming together to offer projects and activities that would build community and create opportunities.
In 2020, the Covid pandemic exposed both the vulnerabilities and strengths of the local community so in order to fill the gaps and build on the strengths, they received funding from the Wales Respond and Recover Fund to employ a co-ordinator to oversee and support the growing range of volunteer-led programmes, projects and activities.
Since doing this they have developed a volunteer programme and doubled their volunteer team to 38. This increase in volunteers has helped them to launch a number of new initiatives including St Mellons Pantry, Step Out Scholarship Programme and a Gardening Club.
Employing a co-ordinator has also enabled them to look to the future and develop a longer-term fundraising strategy to support ever growing core costs.
Helen Griffiths of Hope St Mellons said:
"The Wales Respond and Recover funding was the catalyst for significant growth for Hope St Mellons. The organisational capacity it allowed us to build has been fundamental to what we've achieved together over the past two years. We were confident that if we could strengthen Hope St Mellons as a platform for action that local people would bring their skills and experience to benefit the local community.
Hope St Mellons is a growing group with committed volunteers who represent the gifts, vibrancy and diversity of our local community. As a group with deep roots in our community we've been so excited to see this momentum and growth and the opportunities for connection and change that it's created."
Edwina, one of the Gardening Club members said:
"Being part of the Gardening Club has boosted my wellbeing by making new relationships with other members and their families and listening to their stories. I've enjoyed being encouraged and hopefully being an encouragement. Being outdoors with others sowing and growing has definitely made me feel physically and mentally better."
Mags, one of the Pantry members and volunteers said:
"The pantry has changed my life. I look forward to seeing the team every week. My mental health is so much better and buying food from the pantry has helped me financially so much."
Madeline, one of the Step Out Scholarship volunteers:
"I have loved being part of Hope St Mellons – it has really made me feel so much more connected to my community."