Providing a safe space for veterans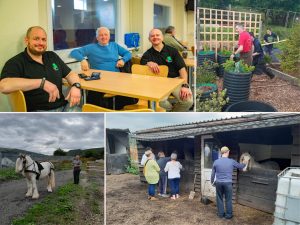 Valley Veterans is a veteran-led organisation based in the heart of the Rhondda Valleys that provides support to vulnerable ex-armed forces members.
They were founded over 15 years ago as an informal support group for PTSD sufferers and have grown into a registered charity with over 120 active participants.
Valley Veterans provides practical help and advice to veterans as well as equine and outdoor horticultural activities and a weekly breakfast club. They received a grant of £5,000 from the Trivallis Community Investment Fund to go towards purchasing security fencing and a gate for the charity's garden area.
Participants have told how the horticultural activities and equine therapy have helped them with their mental and physical health. Together with the weekly breakfast club, they feel that they have a safe space to meet and chat with people who understand what they are going through, helping to create comradery and combat social isolation.
Dai, a veteran member, has really benefitted from Valley Veterans' support:
"My first contact with Valley Veterans was a few years ago but I was not ready at the time to go to the Breakfast Club or use their services, but I knew it was there. As I became ill yet again with Gulf War illness, I spent years sleeping, dealing with the pain and memory fog, which was a dark time.

Finally with the support of a mentor I started to attend Valley Veterans club on a Thursday.

At first, I could not stay too long in the building when attending Valley Veterans due to my PTSD issues, but they took the time to help.

I had been isolating myself for years but with Valley Veterans' support I now feel I belong to a new family; they made me feel proud of my services and they accept the injuries I had received while serving.

They provided activities I could get involved with again, like caring for horses even though my disability held me back from doing most things in my life. At first, I was scared of the horses but with time I have learned to respect and love them, as they do me and I like to watch the flowers grow in the Valley Veterans' garden.

As I can no longer work, they have helped me come to terms with this and build my self-worth by helping others in our community, like providing food for Valley Veterans' members through the pandemic.

They also challenged my view of not taking help for myself as I didn't want to be seen as a layabout or scrounger. I now see myself as an injured veteran and, with Valley Veterans' support, I was able to get the help I needed to live the best life I can lead.

I'll never get back to work but at least I now have a role I can do; I feel valued and listened to and I'm proud to be a part of Valleys veterans."