Reducing isolation and loneliness in the community
"Everyone is kind and caring and the food is excellent; it's nice to have it prepared for us. It makes us feel better about ourselves mentally. We would be lost without it, and it is something to look forward to and enjoy each visit."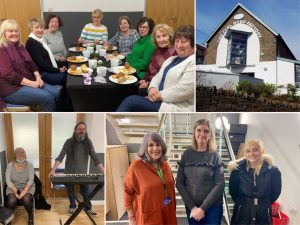 Known as the 'hub of the community', The Feel Good Factory offers a huge range of services, in particular for local older residents. It is also home to the Bryncynon Community Revival Strategy which provides much needed social engagement and support to tenants and residents in the area, including The Listening Project.
The Listening Project, a befriending and volunteer service, offers a telephone service as well as face to face befriending for older people in the community.
The Bryncynon Community Revival Strategy were given a £5,000 grant from the Trivallis Community Investment Fund to enable them to hold regular afternoon tea sessions for older and isolated residents.
Covid-19 has had a huge effect on the isolation of vulnerable individuals and these weekly afternoon tea sessions have helped to get people out of their houses and enable local residents to catch up with friends old and new.
Founder of a local 60+ walking group, Jane Wilson regularly used the centre as a meeting place for her 24-member group, but since Covid-19 they have struggled to get everyone out of their homes.
"We really appreciate the fact that the centre is here to use for all sorts of things. This is our first time at the afternoon tea, it's an ideal opportunity for everybody to get back together again, and it is such a great central location."
Nina, Project Coordinator of the Bryncynon Community Revival Strategy, said:
"The Trivallis' Community Investment Fund has allowed us to put on tea parties to try to get people out of their houses, as there is a lot of vulnerability and anxiety.

We try to be like a family, and for those that can't make it, we deliver our afternoon teas to them. This is their lifeline, they love it, and they hope they can keep coming."