Cooking for health and wellbeing
"Being part of this project has given me enthusiasm to get outside more, eat better and improve my overall health which in turn has made an immeasurable positive impact on my mental health."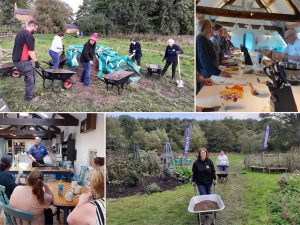 Stepping Stones provides support and counselling to adult survivors of child sexual abuse. They received a grant from the Wales Coronavirus Resilience Fund towards their 'Step by Step Cook and Chill' project to help the people they work with to understand how the food they eat affects their life, family, health, mood, and budget.
The grant enabled each member of the project to take part in cookery classes, cooking with fresh ingredients, following a recipe, budgeting and menu planning. Everyone was able to access the 'Grow with Confidence Garden' and improved their skills in gardening to grow their own fruit and vegetables to use to cook at home.
All participants said their mental health and wellbeing and awareness of food had significantly improved through their involvement with the project.
One attendee said:
"I suffer with anxiety and depression and this project has boosted my mood and wellbeing beyond belief.

I have benefited enormously form being part of this project in so many ways. It has encouraged and enabled me and my children to grow my own vegetables and fruit it has given me a purpose and incentive to get outside and achieve so much more than I thought I could, my 8-year-old son looks after his greenhouse every day, he suffers with anxiety and I have seen a real change in him, so happy looking after his plants after school each day.

I have been supported and provided with everything I needed to build raised beds to plant vegetables and fruit trees and a herb garden. I now take pride in what I have done and can see the results in what I am growing and lovely fresh veg to eat!"
Shirley McCann, Volunteer and Events Manager from Stepping Stones, said:
"I have seen a significant change in those who have taken part in our project, real interest, enjoyment and pride in their cooking skills.

I hear them talking about nutritional values of types of food, trying new food and cooking with their children. They are exercising, swimming, gardening, feeling good about themselves, gaining confidence, less anxious and improved mental health and wellbeing in general.

A real positive change in mindset and all really happy and full of enthusiasm that I know they will carry into the future."