Improving the mental health and wellbeing of people seeking sanctuary in Wales
"I have been in the UK for two years, but I haven't studied or done anything. I didn't have any hope. I always had negative energy. It's only after joining Mind-Spring sessions that I decided to go to college. I am more optimistic now and I want to be a part of any program I can be."
Fadela, Mind-Spring attendee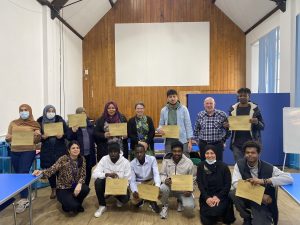 Oasis Cardiff supports refugees and asylum seekers to integrate within their local community.
Throughout the pandemic they adapted to be able to continue face to face support through food collection and deliveries and one to one appointments.
One of the big challenges they faced during this time was supporting their clients with mental health and feelings of isolation. They lost two clients through suicide during the pandemic and saw an increase in mental health issues, stress and isolation due to a reduction in opportunities for face-to-face contact and community integration.
Oasis Cardiff were supported with a grant from the Wales Coronavirus Resilience Fund to run a Mind-Spring programme aimed at improving the mental health of asylum seekers and refugees and helping them integrate socially and culturally into their new environment.
The Mind-Spring programme involved eight workshops covering topics including coping with stress, how to deal with loss and mourning, and building a future. It is run by asylum seekers and refugees for asylum seekers and refugees and is presented in the participants' native language.
Wigdan, a participant at the sessions, said:
"After Mind-Spring I learned how to think positively. I also learned that anyone who has experienced loss, better to stand up again and try to regain what they have lost."
Another attendee, Abdalla commented:
"When I arrived, I felt alone and isolated. Now I feel I have a "family" and I can share my sad and happy experiences with the group. I was always waiting and counting the days between sessions. We learned a lot of things we weren't aware of. I would like the programme to continue. 10/10 for this programme."