Sharing and repairing to build a more sustainable community
"I am particularly grateful for the repair to a 43-year-old toy: it was simple, but I had not been able to do it. The Cardiff Mobile Repair and Reuse Project knew how and had the materials."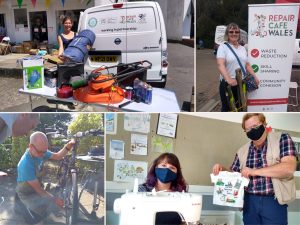 Benthyg Cymru is Wales' Library of Things. They are a growing network of 14 branches with an aim to make borrowing 'as easy as popping out for a loaf of bread'.
Repair Café Wales supports a network of over 57 Repair Cafes where volunteers fix things for free and share their skills with others.
They received a grant from Wales Coronavirus Resilience Fund to work together to set up and run the Cardiff Mobile Project as a pilot, blazing a trail for similar projects around Wales.
The Cardiff Mobile Repair and Reuse Project uses an electric van to help people borrow easily by offering free delivery and collections, and to repair more easily by offering pop-up repair cafes and taking equipment to new Repair Cafes as they become established in Cardiff.
One family said:
"We are so grateful to Benthyg for doing the borrowing scheme. It made it affordable for us to borrow a tent and go on holiday with friends – thank you so much!"
The Cardiff Mobile Repair and Reuse Project also attended a Children's Toy Hospital event at St Fagan's Museum where children brought in their own toys and teddys to be repaired. One attendee said:
"I thought this could never be repaired and it had so much sentimental value. Thank you so much."
Naomi, Volunteer Co-ordinator of the Mobile Repair and Reuse Project said:
"Benthyg Cymru and Repair Café Wales share very similar values. We both believe that we already have enough stuff. And rather than buying more, we should share and repair what we already have.

The inspiration for our Cardiff Mobile Project was the belief that, together, we could make borrowing and repair easily accessible to the people of Cardiff. We believed that if we made it easy, people would do it, tell their friends and boom! – a culture of sharing and repairing would begin!

This support has meant everything to us. Our idea became reality because of the support Community Foundation Wales provided."