From Australia to Wales… the beginning of a storytelling journey
Tricia, a volunteer from Australia, is travelling around Wales, talking to groups we have supported about the power of small grants. Here she talks about what inspired her to embark on this storytelling journey.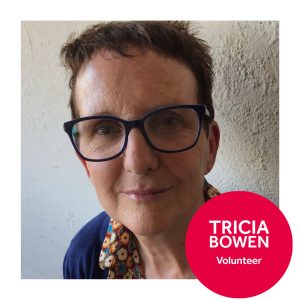 My name is Tricia Bowen and I'm a writer from Australia. In 2022 I contacted Community Foundation Wales (CFW) with the idea of volunteering my services – of travelling around Wales, of meeting and speaking to people involved in projects that CFW support, and then writing stories about their endeavours to be published on CFW's website and social media channels. Twelve months on, this journey is about to begin.
The idea for this project was sewn in 2020. My elderly mother had just passed away, and I'd begun to sift through the photos, papers and memorabilia that she'd gathered over her lifetime. It was here that I was reintroduced to her mother, my Nana, a vital and loving presence in my early life. Nana was born in Wales, as were her parents, and their parents before them, and I was always enchanted by the rich and intricate Welsh tales that Nana shared with me.
I knew that it was time to make the pilgrimage. But I wanted to be more than just a tourist. I wanted to meet people in their local communities. I wanted to listen to their stories and to learn about this country – a place with which I feel such a deep connection.
So, I set about googling charitable organisations. That's how I found Community Foundation Wales. When I read about the projects they supported I immediately recognised the importance they placed on building and honouring strong, vibrant communities. It felt like a great fit, so I made contact. From the outset, both Andrea and Anoushka at CFW were very supportive of my idea, despite the fact that it came from a person unknown to them who was based on the other side of the world.
I'm very appreciative of the opportunity they've provided me with, and I look forward to the many conversations I'll take part in over the next few weeks. I'm excited by the prospect of seeing more of this intriguing country and of hearing the stories of the people working to improve and develop their local communities.