Nation of Sanctuary Croeso Fund
Blaenau Gwent, Bridgend, Caerphilly, Cardiff, Carmarthenshire, Ceredigion, Conwy, Denbighshire, Flintshire, Gwynedd, Isle of Anglesey, Merthyr Tydfil, Monmouthshire, Neath Port Talbot, Newport, Pembrokeshire, Powys, Rhondda Cynon Taf, Swansea, Torfaen, Vale of Glamorgan, and Wrexham
Applications for this grant are open
This fund is now open to applications. The deadline to submit an application is midday on 31st January 2024.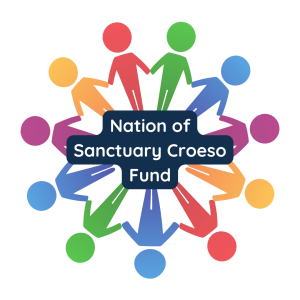 The Nation of Sanctuary Croeso Fund provides vital support for people displaced by conflict and/or persecution from foreign countries, who are seeking sanctuary* in Wales.
*The City of Sanctuary prefers the term 'people seeking sanctuary' in most contexts, as this focusses on people first as opposed to their immigration status. It emphasises that people are seeking sanctuary (safety and protection), not specifically asylum and so has a broader application.
We will prioritise applications from groups who can demonstrate a strong knowledge and understanding of working within in this field longer term.  This Fund cannot support groups working within already established and settled minority communities or groups looking to work with people seeking sanctuary that do not have a track record of doing so.
Prior to opening the fund for the first round in 2022, we spoke to groups working with people seeking sanctuary in Wales to find out what the most critical needs for support were. The Fund will support gaps where other funding is not otherwise available, or where increased demand evidences the need for expansion of a service.
Our learning highlighted the most urgent and increased needs for people seeking sanctuary as:
• Addressing the trauma people seeking sanctuary face, by providing emotional support to improve mental health and wellbeing
• Support with integration and a sense of belonging
Therefore, the Nation of Sanctuary Croeso Fund is seeking applications from groups already working with people seeking sanctuary to provide support services to address these critical issues. For example:
• Befriending services
• Interpretation/language services
• Community/hub activities for people seeking sanctuary and their families to come together
• Trauma/emotional support
NB. this list is not exhaustive, it is meant to demonstrate the type of projects this fund will support.
Grants Available
Organisations with an annual income of under £500,000 can apply for grants of up to £10,000 per year for up to 3 years.
We recognise how important it is for groups to be able to plan for the future and that having secure funding can give you the confidence and reassurance to develop your project over the long-term. Nation of Sanctuary Croeso Fund offers groups the opportunity to apply for single year or multi-year funding of up to 3 years. To be considered for a three-year grant please complete the additional section of the application form, indicating how you plan to develop your project over the period of funding being applied for. Your application will still be considered for one year funding if you are not successful with a multi-year award.
We cannot currently fund:
• Bursary projects that provide onward grants/cash/equipment to individuals
• Groups who work with beneficiaries from diverse backgrounds only and are not working specifically with people seeking sanctuary
• Food/supplies/equipment/clothing projects where items are distributed to individuals/families – we have other funds that will, please look at our grants page here for information on other funding available
Who can apply?
This Fund is open to constituted community-based charities and organisations specifically working with people seeking sanctuary in Wales. These include:
1.    Constituted Groups/Unincorporated Association
2.    Registered Charities & Charitable Incorporated Organisations (CIO)
3.    Not for Profit Companies Limited by Guarantee
4.    Community Interest Companies
5.    Social Enterprises
How to apply?
Applicants must complete an online application form which can be accessed via our website.
Please note:
Grants will not be awarded retrospectively i.e. for costs incurred before receipt of our grant offer letter, and the signed terms and conditions have been returned
Grants are not available towards general fundraising or to support fundraising for other groups and charities
Grants must be fully spent within one year of receipt of our offer letter, unless you are awarded multi-year funding
Groups who have an active grant from the Nation of Sanctuary Croeso fund currently cannot reapply until that grant period has ended
Important information about this fund criteria
This fund criteria may be subject to change. To ensure the funding really goes to where it is needed, we will continue to consult with the Welsh Government and organisations that directly support people displaced by conflict and/or persecution and seeking sanctuary, to assess their immediate and ongoing needs.
We will be as flexible as possible to ensure funding reaches these organisations as quickly as is possible, which may mean we need to change the fund criteria in the future.
Apply now

Make sure you're eligible
Please read the following text to ensure your eligibility before beginning your application:
Continue