Innovative grant-giving event awards grants totalling £75,000 to help community groups across Gwent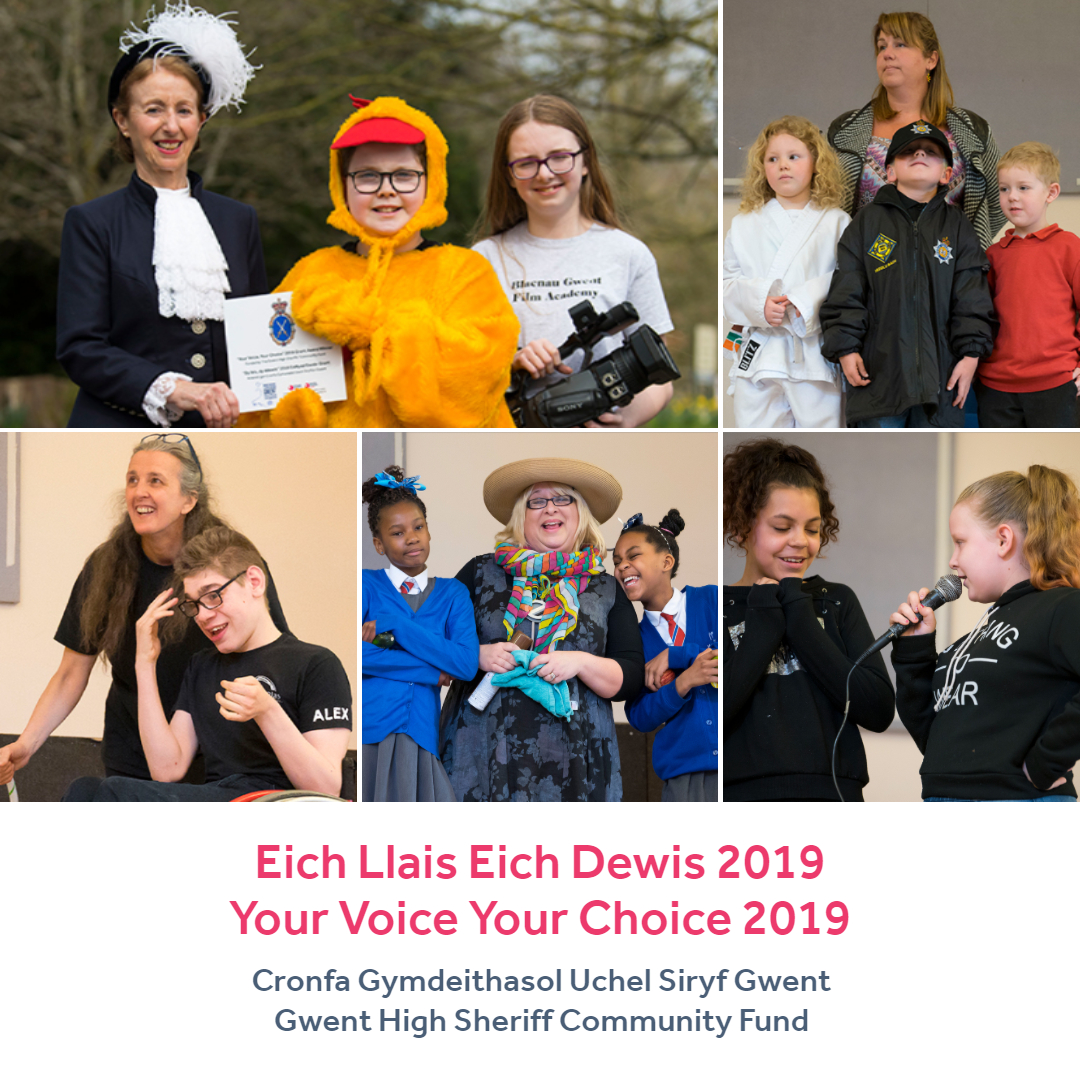 Community groups from across Gwent gathered in Monmouth to bid for a share of a grants pot worth around £75,000 from the Gwent High Sheriffs' Community Fund.
With the support of Monmouthshire County Council for its 2019 event, the 'Your Voice Your Choice' event is a partnership between the Gwent High Sheriffs' Community Fund, the Office of the Gwent Police & Crime Commissioner and Community Foundation Wales to award grants of up to £5,000 to community groups across Gwent.
This event features an innovative grant-giving format that enables local people to prioritise solutions to local issues and support grassroots initiatives which make a real impact on people's lives.
Your Voice Your Choice showcased 24 groups who each had two minutes to pitch their project, with each presentation being scored by the other groups. The projects thought to be addressing the most pressing issues went away with a share of a £75,000 grants pot.
This event provided a platform for grassroots groups to communicate their stories in their own way and share their
energy and commitment to improving lives in Gwent.
This year saw the introduction of a 3-year grant, aimed at supporting sustainability. This grant was awarded to Cymru Creations. Also, the groups who were unsuccessful in their bid did not go away empty handed, they were given a contribution of £500 towards their project.
This grant-making celebration is the highlight of the Gwent High Sheriffs' Community Fund calendar and the culmination of a year of fundraising by the current High Sheriff of Gwent, Sharon Linnard. A significant contribution to the grants pot also comes from the Police & Crime Commissioner, Jeff Cuthbert.
The Gwent High Sheriffs' Community Fund works hard to build safer communities in Gwent by supporting projects that mentor and inspire young people to fulfil their potential. The event is an opportunity to celebrate the hard work and dedication of volunteers and community groups who do so much to improve the lives of people in Gwent.
Richard Williams, Chief Executive of Community Foundation Wales, speaking about the event, said:
"We are delighted to be a part of such an innovative, community driven event. Today has showcased the vital work that community organisations do to improve people's lives and strengthen communities across the Gwent region.
This type of event furthers our commitment to open, transparent grant-making, and enabling local people, who understand best the needs in their communities, to prioritise solutions to local issues.
One of the great things about Your Voice Your Choice is that it provides community groups an outlet through which to share their stories, often through the words of the people who benefit directly from that work. It also enables them to connect with other groups doing similar work. This process of sharing and learning can lead to new partnerships and new ideas to take back to their respective communities.
We want to thank everyone who took part, especially for their vibrancy, liveliness and energy as they shared their stories with us today."
Sharon Linnard, High Sheriff of Gwent 2018—19, said:
"Today's event has shone a light on the fantastic work being done at a grassroots level to help children and young people across Gwent fulfil their potential.
The presentations by the groups were truly inspiring and highlighted the dedication and passion of people who give their time and energy to make communities across Gwent safer and stronger places in which to live.
I want to thank all the supporters who have made this event possible. In particular I'd like to acknowledge the generosity of the Police & Crime Commissioner, Mr Jeff Cuthbert, the Waterloo Foundation and the Newbridge Foundation. Their financial support has enabled us to fund [number] projects which will help change the fortunes of young people across our county."