New report finds that more support is needed for small grassroot community organisations in Wales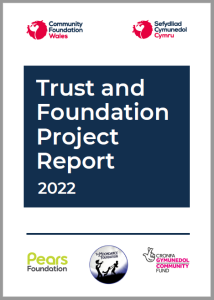 More support is needed within the Welsh third sector, in terms of advice and guidance, workshops and networking opportunities. This is the clear message from Community Foundation Wales's Trust and Foundation Project Report, published today.
In 2020, with support and funding from the National Lottery Community Fund, Pears Foundation, Moondance Foundation and individual philanthropists, Community Foundation Wales created the Trust and Foundation project to gain a deeper understanding of the challenges facing Welsh third sector groups.
The findings, outlined in the report, raise questions of how UK funders can use this learning to be better informed, enabling them to strengthen their support of the Welsh third sector. It also provides recommendations for Welsh Third Sector groups on how to strengthen and develop.
Andrea Powell, Director of Programmes (Deputy Chief Executive) of Community Foundation Wales said:
"Our learning from this Trust and Foundation Project has highlighted a number of barriers that make funding into Wales difficult. Some of the issues highlighted such as size of groups are not unique to Wales and echo areas across England particularly the North East of England so this learning will have an extended reach beyond Wales.
Our intention is to share this report more widely with Trust and Foundations and infrastructure bodies, to raise awareness of the barriers and encourage improved advice and guidance to support groups that are looking to work in partnership with others to strengthen the projects they are running in their local communities.
Only by taking responsibility and thinking differently about how we work together, from the perspective of both grantees and grant-makers, will we find solutions that will ensure a more equitable distribution of funding and enable UK funders to better achieve their goals in Wales."
You can read the Trust and Foundation Project Report here.
To share this report and discuss its findings, Community Foundation Wales, supported by partners RBC Brewin Dolphin, is hosting a round table discussion as part of Wales Week London on March 1, between 12 and 2pm.
At the event you will hear insights from the report and join a round table discussion featuring:
Alun Evans – Community Foundation Wales, Chair
Paul Mathias – Brewin Dolphin, Assistant Director
Ruth Marks – WCVA, Chief Executive
Carol Mack – ACF, Chief Executive
Flora Craig – Garfield Weston Foundation, Deputy Director
Andrea Powell – Community Foundation Wales, Director of Programmes
You can book your place here.