Sharing the learning and continuing the conversation around trusts and foundations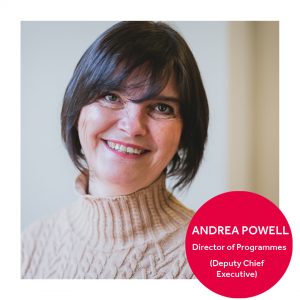 On St David's Day, with the generous support of Brewin Dolphin, we held an event at their London office to share the findings of our Trust and Foundation Project which was created to help us to gain a better understanding of the Welsh charitable sector and the funding opportunities that exist outside of Wales.
The event was well attended and there was representation from both the Welsh third sector and a number of trusts and foundations based in London.
It was great to have Carol Mack – Chief Executive at ACF, Ruth Marks – Chief Executive at WCVA and Flora Craig – Deputy Director at Garfield Weston Foundation, as part of a panel sharing their insights of funding into Wales from the perspective of their individual Foundations.
An interesting conversation was started with a question highlighted by the report of the relatively small number of organisations that are registered as a charity in Wales. We discussed the challenge of becoming a charity, including the length of time it takes to go through the process and the chicken and egg dilemma of setting up a charity bank account before registering and vice versa.
It was felt that the process of becoming a Community Interest Company (CIC), was quicker, less onerous and more flexible initially, but that there was little information available with regard to the lower level of funding available compared to that of a charity to support a CIC longer term.
An action being taken away from this discussion was to ask the Charity Commission if it would be possible to create a five minute guide to summarise its guidance on setting up a charity, as part of the collection of five minute guides for charity trustees. This would be a really helpful tool for infrastructure agencies to use when advising groups.
We talked about the value smaller groups can bring to a partnership, what that might look like in a formal or informal way and a discussion around the possibilities of funders accepting bids from partnerships, what guidance is available and what are funders levels of tolerance in terms of flexibility around criteria fit.
This is a really mixed picture but a recognition that, in terms of diversity, equity and inclusion, more needs to be done to bring the depth of knowledge and expertise of smaller groups, who are often working with a more targeted single identity group, to the table.
It was highlighted that these issues are not unique to Wales and are reflected in pockets across the UK, particularly the Northeast of England. It shouldn't go unnoticed that higher than average levels of poverty and deprivation are also apparent in these areas.
There were conversations about what funding might look like within a partnership bid, especially where funders are being encouraged to consider awarding more core cost funding or unrestricted funding.
There wasn't any experience in the room of distributing funding in this way, however, it was emphasised that project funding still has a place and is important for groups as long as the project is funded in full to include organisational as well as project costs for all partners.
Those in the room agreed that understanding the Welsh funding landscape better will help them as they consider future applications. There was a clear appetite in the room to share the learning with their wider organisations and to consider ways of working that will ensure a more equitable distribution of funding and enable UK funders to better achieve their goals in Wales and beyond.
If you're working for a Trust or Foundation and are interested in finding ways to be more supportive of groups in Wales, we'd love to hear from you to discuss how we can work together.
Please email Andrea Powell, Director of Programmes.