St David's Day grants to support students in reaching their goals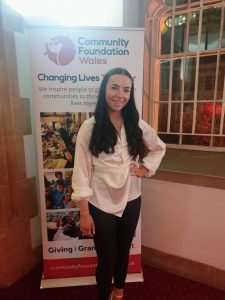 Three grant recipients from the Wales in London Philanthropic Fund were announced at this year's St David's Day Dinner in Guildhall.
Rhea Suckley, from Wrexham, received a grant towards studying for an MSc Physician Associate at Edge Hill University. She is the first person in her family to go to university and hopes to inspire the next generation of Physician Associates to apply for a career in medicine regardless of their background.
Isabelle Coombs (pictured), from Port Talbot, will be using the grant to gain essential knowledge in the field of professional and community dance and business. She hopes to build links with major dance industry professionals and bring their knowledge back to Wales to provide opportunities for young dancers and volunteers through the medium of dance using the Welsh language.
Faye Cooper, from Powys, is undertaking a home study course to become a fully qualified electrician. The grant will enable her to travel to Kent to attend four weeks of practical lessons and exams. She hopes to become self-employed so that she can offer other people opportunities like the one she has been given with this grant by taking on apprentices and running courses in her local community.
The Wales in London Philanthropic Fund, managed by Community Foundation Wales, supports young people who were born and/or educated in Wales to develop their education, learning, business and career skills, and broaden their horizons in London or outside Wales. You can find out more about the fund here.