Supporting inspirational young people to achieve their dreams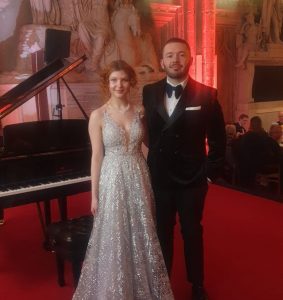 Last week I had the privilege of watching a young Welsh woman captivate an audience of more than 500 people with her story, perfectly illustrating the value of helping young people to achieve their dreams.
Caitlin Nedahl (pictured) was at the annual St David's Day Dinner in London's prestigious Guildhall to talk about her life and the support she has received from Community Foundation Wales.
Caitlin is a singer/songwriter from Caerphilly and has recently been awarded a grant from the Wales in London Philanthropic Fund to support her to study Commercial Music in Belmont University, Nashville.
From Caitlin's first words, the noisy room fell silent as she shared her story of overcoming difficult times at school to follow her dreams – and how the little bit of support from Community Foundation Wales. has helped her.
Without notes, and speaking from the heart, this young woman captivated the room and connected with every single person present. Really connected. The effect of her words was clear as a number of parents approached her afterwards, telling her how they had seen their own children in similar circumstances. Many were holding back tears. A true testament to the unbelievable impact she made.
On the night, we also heard from Dion Lloyd (pictured), who shared his story of how a little support from Community Foundation Wales has helped him achieve TV roles as Wayne Rooney in Rooney v Vardy and also on Channel 4's A Light in the Hall.
We hope that hearing these remarkable stories will inspire others to get involved and help young people like Caitlin and Dion to achieve their dreams. All in all, it was an inspirational evening, and we are grateful to all who donated and supported us on the night. Diolch o galon!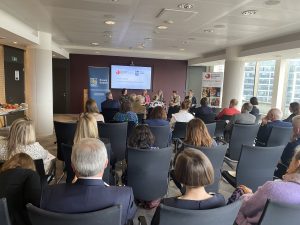 The St David's Day Dinner rounded off a busy day in London where we also held a Trust and Foundations round table event at the offices of Brewin Dolphin, our charity investment partners.
My colleague Andrea Powell set out the findings of a new report into the landscape of Trusts and Foundation funding in Wales and some of the challenges surrounding a sector that can do more to support unregistered charities.
Wales faces a huge challenge in drawing down equitable funds from UK trusts and foundations – put bluntly we are not getting our share, despite being the poorest area of the UK.
At the event. we saw a passion for improving how funders and the sector work together in Wales – we now need to move from talking to doing and I am looking forward to progressing with this.
Myself and colleagues at Community Foundation Wales look forward to picking up on these discussions with partners over the coming weeks – please get in touch!