Taking collective action to improve understanding works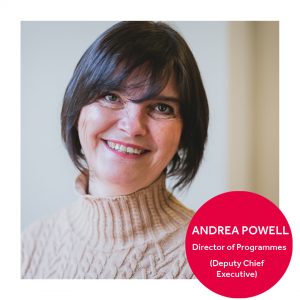 As we move forward from the challenges of the last 15 months, and begin to put the pandemic behind us, it is time to start thinking about the future. This is especially true within the third sector.
In September 2020, Community Foundation Wales published its Loud and Clear Report. As we return to 'business as usual', we are reviewing the criteria of our funds to ensure they reflect our learning; offering funding to cover organisations core costs where we can and building in the opportunity for more groups to receive funding over 3 years. It is important to us that groups know that we have listened to what they have to say and that we are responding accordingly.
Another key piece of learning from the Loud and Clear report was the lack of knowledge within the Welsh third sector of the range of funders that are available to them beyond the Welsh border. Trusts and foundations are a major feature of the charitable landscape in the U.K. The Association of Charitable Foundations reports that there are more than 10,000 trusts and foundations nationwide.
With public sector funding for the voluntary sector increasingly squeezed, a non-profit's ability to navigate their way through these types of grant makers is vital, particularly following a pandemic where groups will have eaten into reserves to survive the additional demand of their service.
With this knowledge in hand, we are partnering with Pears Foundation to develop an 'Action Learning' project.
As part of this project, we will be working with a wide range of groups within the Welsh third sector – from charities to voluntary groups, of various sizes addressing a variety of issues across the length and breadth of Wales. Through this work, we hope to gain a better understanding of the process required to start a successful partnership between grantees and funders whilst identifying some good practise that can be shared with others.
The Pears Action Learning Fund is not your usual grant programme; it is a research-based project that will be supported throughout by an independent researcher. We have appointed Wavehill to work alongside us to undertake this research.
Groups can apply to be one of 25 organisations awarded £2,000 to unlock capacity within their organisation in return for taking part in a planned programme of research and action learning.
Groups that are successful in their bid to take part in this 'action learning' will work alongside a Community Foundation Wales Project Officer. The Project Officer will provide 1:1 support and guidance and will work with them to identify 3-5 funders external to Wales that are a good match with their focus of work.
Groups will gain:
an improved confidence in their ability to share a clear narrative of their work with funders
an increased understanding of the grant process from a funder perspective
a greater knowledge of their organisation's areas for development and where to find support
We are holding four workshops to help groups understand more about this project and to answer any questions about this interesting opportunity. We strongly recommend booking onto a workshop before submitting an application.
This an exciting piece of work that we hope will identify some areas of commonality, highlight some challenges for the sector and, most importantly, help us to understand where there are opportunities for collaboration, partnership working and developing resilience and sustainability through improved knowledge and connections.
By working together we can strengthen Welsh communities for future generations and change lives for the better.
Click here to find out more.