We need your help to continue to support communities through the cost of living crisis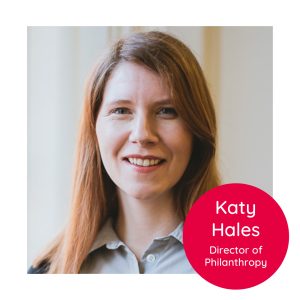 I had the incredible privilege of stepping into the world of food banks recently, thanks to my visit to Raven House Trust in Newport. It's an experience that's left me both humbled and inspired.
Food banks, like Raven House Trust, play an indispensable role in our communities. They're the safety nets for those who are facing tough times, providing not just sustenance but also a glimmer of hope. During my visit, I witnessed first-hand the profound impact that these organisations have on individuals and families who are struggling to put food on the table and make ends meet.
Raven House Trust stands out for its exceptional dedication to the cause, going above and beyond by not only offering food assistance but also providing essential furniture to those in need. Think about the refugees from Ukraine who arrive in Newport with nothing but the weight of their experiences and the clothes on their backs. Raven House Trust extends a warm and welcoming hand, ensuring they have a place to turn to for the most basic of necessities.
They go much further than what some may expect from a food bank – it's so much more than parcelling up tins and sending them out. They tailor boxes to the circumstances of the people they are providing them for and are also looking at providing recipe ideas, like Hello Fresh or Gousto. They are also working on becoming self-sustaining, by selling second hand furniture alongside their day-to-day provision of food parcels.
While at Raven House Trust, I had the pleasure of meeting some of their dedicated volunteers. These are the unsung heroes who pack up food parcels and offer their unwavering support to the community they serve. They ensure the food they send out fits the needs of the recipient – whether that's sending extra biscuits and treats for people with large families or creating specific parcels for those who only have a microwave or a kettle to cook with.
During my conversations with these volunteers, I got a deeper understanding of the challenges facing the community they serve. These are not abstract issues; they are real, pressing concerns that affect our neighbours, friends, and fellow citizens. The rising cost of living is a daunting obstacle for many, and it's heartening to see organisations like Raven House Trust stepping up to make a difference.
The reason for my visit was to celebrate the fantastic news that Raven House Trust received a £15,000 grant over three years from Community Foundation Wales' Our Communities Together: a cost of living appeal.
This appeal, in partnership with Newsquest, is all about making a real difference in the lives of those who need it most. It's about ensuring that organisations like Raven House Trust have the resources they need to continue their vital work.
Last year, in partnership with Newsquest, we raised over £1.3m in donations to the Our Communities Together appeal. That led to our biggest ever grants panel, where we distributed the funds in just under three hours (a busy session!).
Now we're looking to this winter, and what can be done to support communities who are still facing rising costs and uncertainty.
I'm excited to share that Our Communities Together – a cost of living appeal will be reopening. We are actively seeking donations from both individuals and corporates who want to make a meaningful impact on the lives of those most in need.
I also want to take a moment to express our gratitude to the generous supporters who stood with us last year, particularly Welsh Government. And, importantly, the hundreds of individuals donors, large scale corporates like NatWest, Dragon Taxis, Welsh Water, and Wind2 alongside charitable bodies such as The Steve Morgan Foundation, Moondance, Waterloo Foundation, all gave generously, and their contributions made a world of difference. Together, we can build on this momentum and continue to provide vital support to our community.
Keep an eye out for updates on our campaign, and remember, even the smallest donation can make a world of difference.