Where there is a will there is a way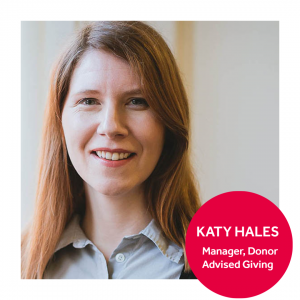 Before starting my role at Community Foundation Wales, my interactions with solicitors and lawyers had been minimal (I like to stay on the right side of the law!).
That all changed when I began spending most of my working week out and about, talking to and meeting with professional advisers across the country.
In these meetings we discussed the importance of making their clients aware of the financial advantages of philanthropy, whether during their lifetime in the form of a charitable trust, or posthumously as a legacy gift.
And at the centre of this is the vital need for a Will.
I will be honest, until that point I had never given much thought to a will. I felt that I didn't need to have down on paper what I wanted to happen after my death, because it's a pretty depressing thought and, as I have a relatively uncomplicated family and financial life, it seemed unnecessary to go to the time and expense of instructing a solicitor (the irony!).
But in reality it doesn't matter how simple you consider your Will to be; the plain fact is that without one, your loved ones are left in a complicated situation when you die.
If you don't have a Will, everything you own will be shared out in a standard way defined by the law. People you would like to leave something to – such as a partner you are not married to – may end up with nothing.
Having a Will is the only way to ensure that your money and possessions are shared between the people and causes you care about in the way that you want. You can even specify simple things; like people you would like to leave particular sentimental items to.
Without a Will, nobody knows your wishes and the people who are important to you may have to make difficult decisions, and may even argue about how your estate should be divided up.
If your estate is worth more than £325,000, a Will can help to reduce the amount of inheritance tax that may be payable on the value of any property and money that you leave. If you give a portion of your estate away to charity, your inheritance tax rate will be lowered, lessening the amount of tax incurred on your whole estate.
7th September marks the start of 'Remember a Charity in Your Will Week' and as part of this we have teamed up with Beyond Wills to provide you with a simple, online option for writing a Will.
Each Will costs £90, and a portion of that cost will be donated by Beyond Wills, straight back to Community Foundation Wales.
By using Beyond Wills you can be safe in the knowledge that you have your legal affairs in order and have also helped us to continue to support the most vulnerable people in communities across Wales, who need our help now more than ever.