Helping hand for 400 gymnasts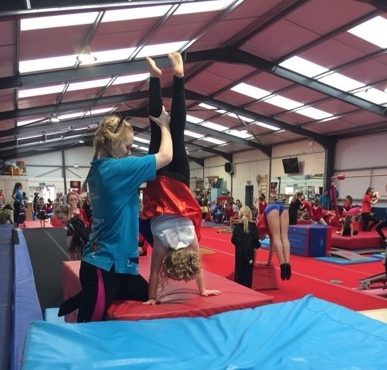 "Many parents within the community stay for coffee and snacks with their children after the sessions and have commented on how wonderful it is to have a local facility where their children can exercise whilst they actually benefit from it too."
Ruthin and Denbigh Gymnastics offers a wide provision of gymnastics to Denbigh, Ruthin and the surrounding communities, working with over 400 gymnasts. They were awarded a grant of 1,000 to buy equipment to be able to run parent and toddler and pre-school gymnastics sessions.
The grant has contributed to Ruthin and Denbigh Gymnastics achieving their vision of opening a new gymnastics facility in Denbigh. The two blocks and steps, purchased with the funding, have been used daily since the centre opened in September.
Toddler/preschool sessions are run twice a week where local parent and grandparents meet to socialise whilst their children are learning through gymnastic 'play'.
These sessions are operated bilingually and there has been a huge development in the children's' gross motor, literacy and numeracy skills through the medium of songs, instructions and relevant questioning.
They have also been able to open a centre for disability gymnastics and helped local children and young adults with mild to severe disabilities use this specialist environment for their enjoyment and benefit.