Community Foundation Wales has supported vital services for people seeking sanctuary in partnership with UK Community Foundations and the Freemasons' charity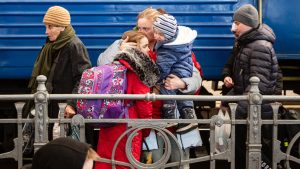 The Ukrainian Support Fund launched last year, following the invasion of Ukraine. It has helped local charities and community organisations that are providing support for refugees arriving from Ukraine, supporting the direct delivery of services for individuals' and families' social integration in the UK.
The money from the Ukrainian Support Fund went towards a grant from Community Foundation Wales' Nation of Sanctuary Croeso Fund to Homestart Cymru to enable them to support 120 families who are seeking sanctuary in Gwent, to improve their wellbeing, resilience and integration in their communities.
The grant from the Nation of Sanctuary Croeso Fund will help them to replicate their current and successful Cardiff based refugee and asylum seeker project in the Gwent area.
Though a year has passed since the invasion of Ukraine, its impact will undoubtedly last for many years to come, continuing to inflict suffering on the millions of displaced Ukrainians around Europe. But sadly, Ukraine is but one of the many countries facing conflict and discrimination around the world, with thousands of people being forced to flee their homes every day. The work being done by community organisations in Wales is helping to ensure displaced individuals and families escaping conflict and discrimination get the help they need.
Rosemary Macdonald, CEO at UKCF, said:
"These UK projects are vital to the long-term inclusion and integration of refugees and asylum seekers who are hoping for a safer life. They did not choose this direction and should have every opportunity to feel welcomed and included in their new communities. With flexible funding from partners like the Freemasons' charity, these essential services can continue to provide this support and help people to rebuild their lives."
Richard Williams, Chief Executive at Community Foundation Wales, said:
"This funding is helping Homestart to provide vital support in Gwent to people displaced by conflict and seeking sanctuary. The support offered by Homestart and organisations like them is needed now more than ever as Wales welcomes more refugees and asylum seekers."
Les Hutchinson, Chief Executive of the Masonic Charitable Foundation, the Freemasons' charity, said:
"I am delighted that we have been able to offer significant aid to many Ukrainians who have arrived in this country. They have abandoned everything in a country grappling with the consequences of a catastrophic conflict, and I am proud that the assistance provided by the Freemasons is making such a difference."
Click here to find out more about the Nation of Sanctuary Croeso Fund.