Empowering Change: Celebrating International Day of Charity with Community Foundation Wales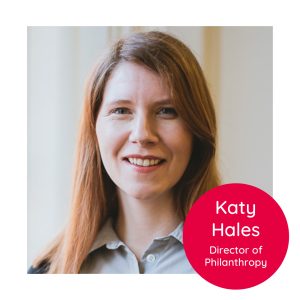 Today is International Day of Charity, a day established with the objective of informing and mobilising people, NGOs, and stakeholders all around the world to help others through volunteer and philanthropic activities.
This seems the perfect opportunity to shine a spotlight on Community Foundation Wales which, as well as being a grant maker, is also a charity in its own right. Donations from our website and our Friends of Community Foundation Wales scheme flow directly towards our core costs, allowing us to keep the lights on in our Cathays HQ, and, continue to provide crucial support for grassroots organisations across Wales.
But, with so many worthy charitable organisations across Wales, why choose to donate to Community Foundation Wales? The answer is simple. By supporting Community Foundation Wales, you're investing in a movement that goes beyond traditional charity. You're partnering with a team that understands the nuances of local needs and the power of collective impact.
This dual impact is where the real power lies. When you donate to an appeal set up by Community Foundation Wales, you're not just contributing to that specific fund. You're igniting a chain reaction of change that extends far beyond your initial contribution.
If you set up a fund with us, you're not only supporting the causes close to your heart but also fuelling the broader initiatives that Community Foundation Wales champions across Wales. It's a beautifully symbiotic relationship that multiplies the goodness you generate.
Getting involved with Community Foundation Wales is accessible and rewarding. You can start by exploring our existing appeals, contributing directly via the donate now button, becoming a corporate or individual friend of the foundation or taking the leap to set up your own fund. Your involvement isn't just a donation; it's an investment in creating a brighter future for communities throughout Wales.
So, whether you're a long-time supporter or just discovering the incredible work of Community Foundation Wales, remember that your support isn't just a drop in the ocean – it's a ripple that reaches far and wide. Here's to a day filled with inspiration, empowerment, and the shared commitment to creating positive change.
Happy International Day of Charity!