Looking back at another year of listening and responding to the needs of Welsh community groups and charities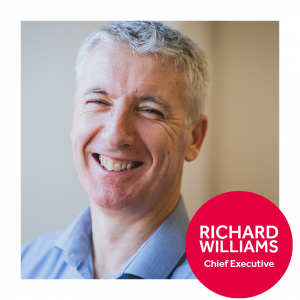 Our work at Community Foundation Wales is led and shaped by the needs of community groups and charities in Wales.
Over the past 12 months we have largely been listening and responding to the Cost-of-Living crisis and the challenges groups have faced in keeping their heads above water whilst also meeting the increasing demand for their services.
We have just published our annual report, telling the story of 2021/22 from our perspective. While these documents can sometimes be quite 'dry' and statistical, we have used the opportunity to tell our story and encourage support for our work, which is needed now more than ever before.
You can read the report here.
Our work is heavily focussed on partnerships – most of what we do is only possible through working with others. Partnerships with donors and funders. Partnerships with community groups. And partnerships with those we work closely with in Wales.
Those partnerships are the foundation stone of our work, underpinning how, over the last year, we delivered £1.92m of grants to over 400 groups in Wales. Every single one of these grants is helping to improve lives in local communities across the country.
Highlights of this year have included the launch of our Nation of Sanctuary Croeso Fund, a new grant programme for people fleeing conflict and arriving in Wales, our new partnership with Principality Building Society to launch the Future Generations Fund and, perhaps most importantly, supporting the brilliant Community Foundation Wales team to help and support the groups we work with.
Please take a look at our annual report and let us know your thoughts, and even better, if you can help us to do more and improve.
I would also be very interested to see other examples of organisations innovating their annual reports, using powerful story-telling to connect groups with their supporters.
We are so proud to have supported over 400 amazing groups making a difference in communities across Wales.
You can read more about the people we have supported over the last year here.