What I learned from Tricia's Welsh trip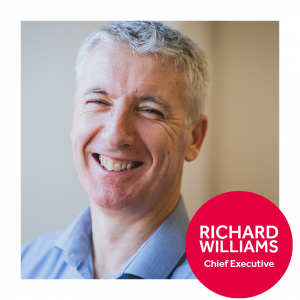 One of the most interesting meetings I have had in the past few weeks was with one of our volunteers, a woman called Tricia.
Tricia was in Wales to revisit the footsteps of her grandmother, who lived in Treherbert. Tricia is a writer and wanted to do some volunteering while in Wales. We organised for her to visit some of our funded projects and to help us on a story-telling project.
So, Tricia spent a month travelling Wales by public transport and visiting projects.
I met with her last week to hear about her work and her experiences, which drew out two wildly contrasting emotions in me.
First of all, a swell of pride in hearing about the great work taking place across Wales, and to see a visitor to Wales so impressed with this.
To see this recognised with such passion from a visitor to our country was a pleasure and re-affirming. We sometimes undersell the achievements of our community groups and yet Tricia was overwhelmed with what is such a positive national story, an area where we are world-leading and where our strengths as a nation of community-minded people comes to the fore.
A reminder to us all who have a stake in the third sector in Wales – to keep talking up our sector. A reminder to put aside our Welsh humility and find time to recognise some of the things that make our communities brilliant places, and the steps people are taking to improve them further. Thanks to Tricia for the reminder!
But then, sadly, the second feeling was one of embarrassment. Tricia's experience of our public transport will surprise no-one that takes a Welsh train or bus now and again.
Trains that don't turn up. A national cross-country train service consisting of two coaches, packed to the rafters. Buses that don't seem to follow any schedules. Awful…but the thing that really amazed her? That we all put up with it, with just a bit of shrugging shoulders and tutting. Tricia commented that 'If this was happening in Australia people simply wouldn't put up with it.'
But evidently, we do.
Despite this it was a real pleasure to hear from Tricia after her experiences and felt like someone holding up a mirror for me on our lives in Wales and the things we can be so proud of. But it also served as a reminder to keep trying to do better, and sometimes to stand up more strongly and improve the areas of our lives that need to be better.
We'll be publishing Tricia's stories later this year – look out for more news on that!