From Cardiff to Amlwch… discovering the true beauty of Wales
Tricia Bowen, a volunteer from Australia, has just returned from a journey around Wales talking to groups we have supported about the power of small grants. Here Tricia gives the lowdown on her epic storytelling trip across Wales.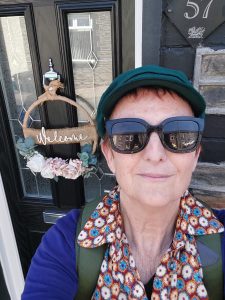 It's been many weeks since I wrote my first blog, and I've now come full circle and returned to Cardiff where this journey began. I couldn't even guess how many miles I've covered.
I've travelled to Dinas Powys, Tredegar, Merthyr Tydfil, Treherbert and Port Talbot in the south. I've spoken with people in Fishguard, Tregaron and Builth Wells. I've journeyed north to Bangor, Amlwch and Llangollen. I've used local buses or trains to get around so I've also had the pleasure of meeting many locals, and sometimes even their dogs, which has given me much joy!
As well as visiting different groups and organisations supported by Community Foundation Wales, I also included a short personal detour. I went to Treharris, to see the house where my Nana once lived. I knocked on the door, hoping to introduce myself to the current owners. Unfortunately no one was home. But it didn't matter. The welcome sign hanging on that door said it all. WELCOME – CROESO has been a word I've heard many times on this journey.
I've heard other things repeatedly as well. Phrases such as 'I just wanted to help', 'We saw there was a need', and 'we've become like a family', have been integral to each and every conversation. I've been overwhelmed by how much people are willing to do for each other, how much they value the importance of social connection, and how keen they are to build and honour their communities.
I've seen incredible natural beauty. Luminescent lakes in Snowdonia. Magnificent cliffs dropping into the sea around Fishguard and Cardigan. A group of proud white swans drifting on still blue water near Bangor. That list could go on.
But I've also been captivated by the beauty of human beings. Exuberant and talented kids, surrounded by supportive and loving adults, singing, dancing and making intricate artwork. People gathered at a Food Share Centre to pick up some much-needed supplies, greeting one another with deep affection and humour. Elderly people with dementia, basking in the warmth of the sun while working in a fragrant community garden. Talented wheelchair rugby players moving with grace and lightning speed. Once again, too many examples to list.
I fly back to Australia in the next few days. Once I'm home, and have recovered from the inevitable jet lag, I plan to write about each group I've met and hopefully showcase the work they do. At some point down the track, these accounts will be made available on the Community Foundation Wales website and on their social media platforms, accompanied by the photographs I've taken along the way.
I'd like to end by offering my thanks to Community Foundation Wales, and particularly Anoushka Palmer and Andrea Powell. A big thank you as well to all those who generously agreed to meet and speak with me.
I'd also like to offer a huge DIOLCH to the people of Wales. I understand that many people throughout the country are experiencing economic hardship at the moment. I've seen it, and heard of it, with my own eyes and ears. But I have also seen the strength, generosity and pride that exists in Welsh communities.
Being witness to that has been an incredible privilege.