A place to feel safe
"You see people coming in and out of here, but even to be here for one hour, it's really healing, believe me."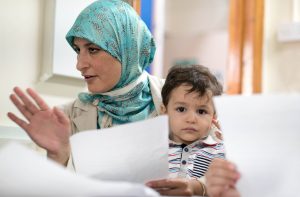 Oasis Cardiff supports refugees and asylum seekers with vital support to help them to integrate within their local community.
With the recent conflicts in Syria and Ukraine, the demands on the support offered by Oasis, and organisations like them, has reached an unprecedented level. With more and more people seeking sanctuary in Cardiff, the need to listen, be available and advocate when necessary is needed now more than ever.
Oasis Cardiff received funding from the Nation of Sanctuary Croeso Fund to bolster their capacity and ensure that visitors to their centre have access to both practical and emotional support.
Through this support, they have piloted a number of different holistic methods to empower clients with tools to cope and thrive. Among these is the expansion of their triage system.
They have added to their Triage team to ensure that they can continue to offer a warm welcome to the increasing number of visitors to their centre. When people first arrive in Wales, they can often feel overwhelmed and isolated. When they arrive at Oasis, it is crucial that they are immediately welcomed, and their needs assessed.
Annie (name changed) and her young son were placed in accommodation in Cardiff but due to her anxiety and low mood, she found it very difficult to leave her room. When Annie arrived at Oasis, she felt very lonely and overwhelmed and her son was quiet and withdrawn.
A Triage Officer at Oasis sat with her in a quiet room and listened to her situation and emphasised that she was now in a safe place. Both Annie and her son hadn't eaten properly since they arrived in the UK so the Triage Officer arranged for them to have some lunch together in a quiet space.
The Triage Officer spent time with Annie, informing her of what groups and social support we can provide at Oasis and also some local schools which she could contact for her son. The Triage Officer also set up a solicitor appointment for her and added her to the Oasis WhatsApp groups to receive information on social outings and activities.
She was given a pack of women's toiletries and some food for her son, and encouraged to return the next day. Annie left Oasis feeling much calmer, and grateful for the empathy she received.
When they arrived the next day, Annie's son was shown the play area at Oasis and he soon started playing and interacting with other children. They both started attending a weekly music and storytelling group at the Sherman Theatre which they thoroughly enjoy.
Annie said:
"I am so grateful for all of the support I have received; I feel more relaxed and happier and now have hope for a more positive future for my son and myself."