First grants awarded from Community Foundation Wales's Nation of Sanctuary Croeso Fund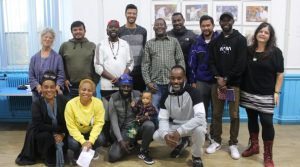 The first grants from the Nation of Sanctuary Croeso Fund have been awarded to support charities, community groups and organisations working with people who have been displaced by conflict and are seeking sanctuary in Wales.
Amongst the projects supported by the fund are a choir for people seeking sanctuary in Cardiff (pictured), art and play sessions and a meet and share hub for people seeking sanctuary in and round Wrexham and the provision of basic English/Welsh language and social orientation lessons for sanctuary seekers in North Wales.
The Welsh Refugee Council have been awarded a multiyear grant from the fund to establish a Welsh Refugee Coalition Lead to advocate change for asylum seekers and refugees.
With 32 years' experience, the Welsh Refugee Council helps over 3,000 asylum seekers and refugees each year to build new futures through specialist advice, support, and advocacy services.
They are one of the organisations that make up the Welsh Refugee Coalition who, through collaborative work, sharing information, and reviewing trends, contribute to a more informed, equal, and globally responsible Wales.
The newly created Welsh Refugee Coalition Lead post will create a voice for people seeking sanctuary and champion improved systems through policy, advocacy and campaigning. The work of the Welsh Refugee Coalition Lead will be directly informed by people with lived experience and the organisations that support them.
Andrea Cleaver, Chief Executive of the Welsh Refugee Council said:
"We are thrilled that the Community Foundation Wales recognises the strategic importance of our project. The project over three years will fund a Coalition Coordinator post to build capacity amongst our 54 members, increase membership, help share knowledge and ensure that actions are taken locally and nationally in becoming a Nation of Sanctuary. Big thanks to everyone at Community Foundation Wales for their part in welcoming refugees."
Richard Williams, Chief Executive of Community Foundation Wales said:
"We are delighted to be awarding the first grants from the Nation of Sanctuary Croeso Fund to community organisations providing vital support to people who have been displaced by conflict and are seeking sanctuary in Wales. The work of these groups has become increasingly important as Welsh communities welcome more and more refugees and asylum seekers and help them to settle in their new surroundings."
Jane Hutt MS, Minister for Social Justice, Welsh Government said:
The Welsh Government is proud to have made a founding £1m donation to help launch the Nation of Sanctuary Croeso Fund. When we launched our Nation of Sanctuary vision in 2019, we hoped to inspire many others to join us on the journey towards a more inclusive society. The establishment of this fund and the grants awarded demonstrate this collaborative vision. These projects will greatly benefit people seeking sanctuary and their host communities across Wales."
The fund received a huge amount of applications, some of which could not be funded so, to enable the Nation of Sanctuary Croeso Fund to help even more people, further donations are urgently needed.
You can donate to the fund here.